| | | | | | | | | | | | | |
| --- | --- | --- | --- | --- | --- | --- | --- | --- | --- | --- | --- | --- |
| | | | | | | | | | | | | |
| Home | Store | Club Profile | Book Reviews | Famous Members | Characters | Radio | Genealogy | Biography | Harper Lee | Clippings | Email Me | Search |
The Seckatary Hawkins Fair & Square Club
Welcome to the Seckatary Hawkins Club webpages. We are here for you!
What's New?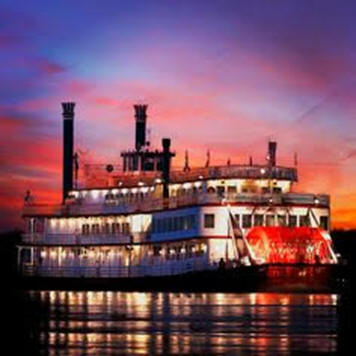 SAVE THE DATE!!
100TH ANNIVERSARY NATIONAL BIG MEETING OF THE
SECKATARY HAWKINS CLUB
WHERE: BELLE OF CINCINNATI RIVERBOAT,
NEWPORT, KENTUCKY
WHEN: SATURDAY, JUNE 16, 2018
9 AM - 4:30 PM
WHAT: A DAY ON THE RIVER -- OUR MOST MEMORABLE BIG MEETING EVER!
DO NOT MISS THIS ONE.
SAVE THE DATE NOW. DETAILS TO COME....
Hey Club members.
Pretty exciting news around the old riverbank today!
Club member Diane Schneider has arranged for another unique experience for our national BIG Club Meeting. Just think, we will be aboard one of the Watertown paddle-wheelers and the similarities between us next June and Seck and the boys and girls in the old stories will surely make us all feel like we have gone back into happy history as kids again! You will surely recall how reverently Seck and the boys treated the riverboat-queens in all the stories. Getting a first class ride aboard one of the big ones, would certainly make it a happening to be remembered and enjoyed. I am sure we will all have a grand time and make this 100th anniversary celebration of Seckatary Hawkins an enviable place to be. Diane and Dan Kindel have worked up a lot more surprises based on this theme, which you will hear a lot more about very soon. I know all club members will want to be part of this history making event, so please make some plans right away to be there - it will be here before you know it.
It will be a great time to bring a friend into the club too. If you know some youngsters who would like to get in on the fun, you can join them up for free. Send in the membership application from seckatary.com, or snail mail, pony express, carrier pigeons or any way at all. Any questions or details you need answered; just contact me at seckatary1@gmail.com and I will get right back to you.
Thanks to Diane and Dan for all you have arranged, and thank each club member who will make a firm commitment to be there. The 100th anniversary club meeting will never happen again, and you will want to be a part of it. Help old Seck write that last entry in the old school subject notebook : "We planned to get about 90% of our club members to gather together with us down on the old riverbank for our 100th anniversary club meeting - WHICH WE DID!"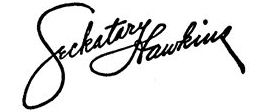 *NEW BOOKS
Grandpa's dearest wish was for people to read, learn by and enjoy his stories. There is one long-lost story that ended the series. Now it has been found and printed for club members. So this, the final series episode is now included in the set of reissued books by and for our club.
3 full-length RFS boys' stories this time instead of just 2. The titles are:
BOOK #1:
Treasure in the Tropics -- From the 1933 radio scripts.
Usually, things are done the opposite of this project – a book is completed, and then it becomes a radio show. This is the final Seckatary Hawkins mystery/adventure story written by RFS, broadcast over NBC radio on Tuesdays, Thursdays and Saturdays from 2/7/33 to 4/1/33. Detective Jeckerson explains the secretive telegram he had received at the end of the Lake Tapaho adventure. As you read in the first chapters in Cuba Unabridged, a well-to-do friend of Jeckerson's childhood had reached out for help in the disappearance of his younger brother. Of course, Seck and Shadow were needed to help work out this missing person mystery, including a buried treasure which involves a search through uncharted islands in the Tropics. Ships, planes and trains are loaded with intrigue and subterfuge, as well as dangers that may just be more than Seck and Jeckerson can handle this time.
In translating from the scripts I closely followed Grandpa's writing fashion experienced in all the previous Seckatary stories - the actual words were preserved – only making changes in tense and person where necessary for proper reading construction. Minimal additions of "He said", "They shouted", "He replied excitedly", etc., were inserted where needed to replace the character designation of the radio script and adapt to the novel writing format. Sound effects and some vocal inflection indicated in the scripts needed a text description to make a real novel book.
The journey to the wealthy Colonel's home is full of intrigue and danger, and a run-in with a dangerous, big wild animal on a train. The suggestion that a huge, lost buried treasure is at the end of the search invigorates the activity of the participants. Seck's reliable quick thinking saves the day more than once. But you will have to read the whole story to see what happens. Thrills, chills and spills await the reader of this story. You are really gonna' like this newest Seck story – the last in the series of exploits of the Seckatary and his pals. You are in for a treat with this the newest, and the last, Seckatary Hawkins exciting Mystery Adventure that no one has ever read before.
ALSO in BOOK #1:
The Boathouse Boys - Kentucky Boys' riverbank adventure stories From the magazine sequels written by RFS.
I am not sure if these were written before the Seckatary stories, or during. My hunch is these were alternate stories Grandpa wrote shortly before the Seckatary series began.
The story line is similar to Seckatary stories, but with a totally new cast.
14 year old Jim Thorpe's father builds him a boathouse so he can earn some money and Jim decides to make a club out of the business, and his friends all agree.
Another bad boy gang is led by a masked boy who is bigger and older than the hero and his gang. Many familiar terms like "Which we did" and Cincinnati and the river, etc., will get your attention. These stories were stimulated by the Seckatary adventures and written in the same time period. Some good life lessons and ways to deal with bullying are found throughout this early adventure.
BOOK #2
The Ghost of Lake Tapaho - Unabridged: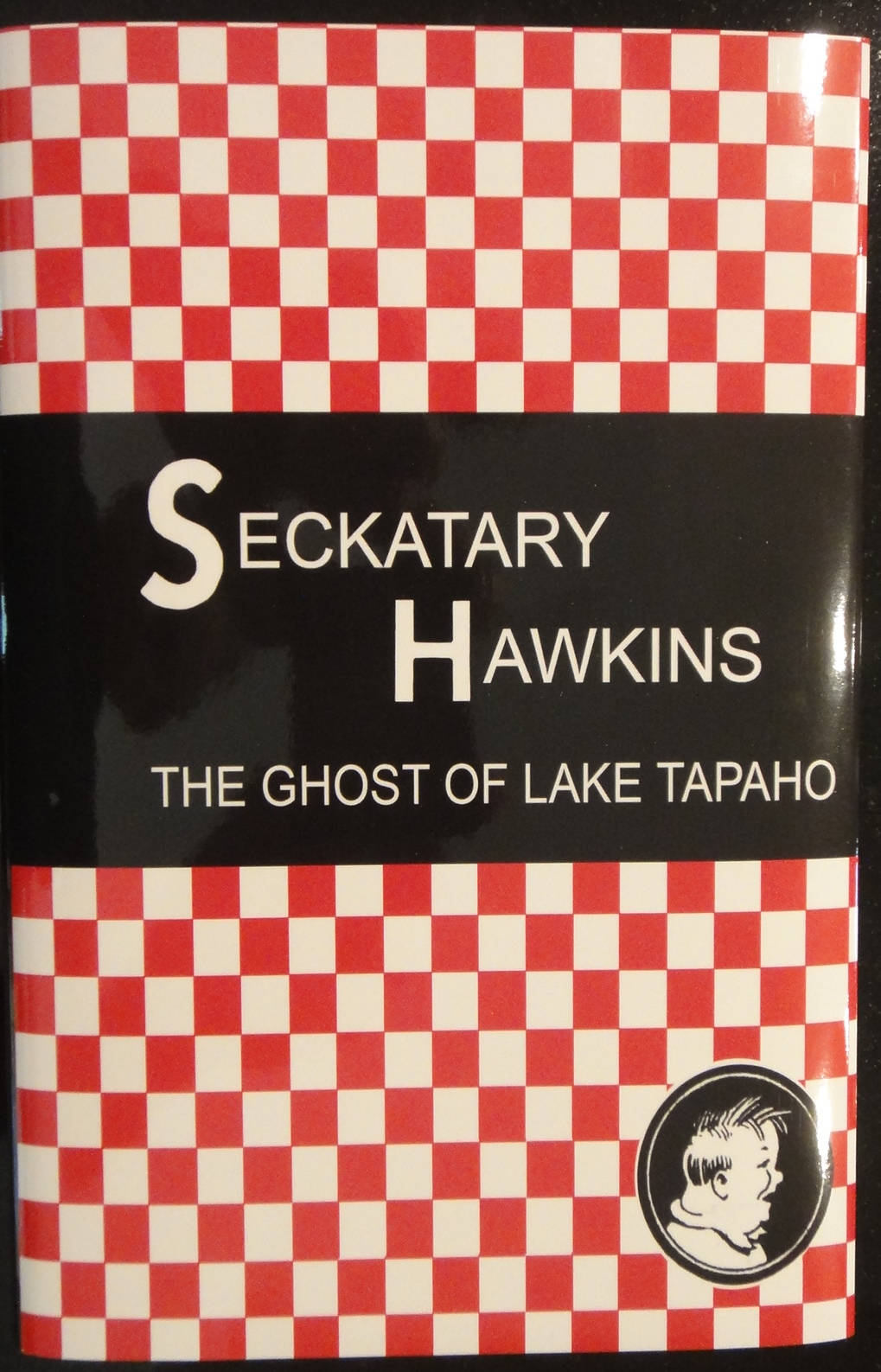 This is a high quality hardback book in the same format as our other club books with completely retyped text from the newspapers and includes all the missing illustrations left out of all other issues of Tapaho. Several chapters had missing text - usually at the beginning, which is added back into this printing. Twelve previously unknown Tapaho comic strips, never before printed, will be included along with two Seckatary short stories from other dates never before printed in book form.
Summary. A "ghost" is terrorizing a resort at Lake Tapaho, north of Watertown, scaring away the guests, and the resort is teetering on bankruptcy. Jeckerson and Seckatary Hawkins are asked to investigate, and the whole club, along with Doc Waters, drives to Lake Tapaho to stay at the resort. The "ghost" turns out to be a slick make-up artist and deep sea diver who disguises himself and is staying as a guest at the resort. The culprit dons an outfit that looks something like a walrus, and emerges from the lake to frighten people at the resort. He has been hired by a local man who owns substantial amounts of the land around Lake Tapaho. The evil plot is use terror to achieve two things - 1: he wants to convince the owner to give up his hotel and land. 2: he wants to frighten away an elderly Native American named Chief Two Feathers. The Chief has a document that shows he has the title to all the land around Lake Tapaho. Jeckerson and Hawkins expose the plot and the ghost. In the end, Chief Two Feathers does something unexpected. Robert Parr does things the fair and square way. There are many chills and spills and excitement for everyone in this Seckatary adventure mystery. A favorite among Seckatary collectors for many years, this is the second most expensive first edition in antique book stores.
These books will be signed and numbered as we have done with other club books, and only 150 will be printed. Join the club today.
Hurry to reserve your copies of these exclusive club books that are already being talked about as collector's items in the book community. When 150 copies are sold, that will be the end of this set of Club books. Don't wait too long. Both books - $150.00.
---
NEW! World Premiere!
Covington's Behringer/Crawford Museum is ALL Abuzz About Books!
Be the first in line at the world's first event announcing the re-release of Harper Lee's favorite childhood books
| | |
| --- | --- |
| "Stoner's Boy" | "The Gray Ghost" |
| | |
by Covington native Robert Schulkers
Now you can own the same two books that make up the last two pages of To Kill a Mockingbird.
You can order these books from the following stores:
---
February 3, 2018 will mark the 100th anniversary of Seckatary Hawkins in print. Since the Fair & Square Club reformed on the internet in 1998, many club members have expressed a desire to see Seckatary Hawkins books more affordable and readily available to the public - and particularly for children.
When I first set up this website in 1998 I was hoping to recreate some nationwide interest in the Seckatary Hawkins Fair & Square Club. I found quite a few readers who shared my enthusiasm, and we have signed up over 2700 members since then. Working with these very enthusiastic and wonderful club members, we have held 4 big, national club meetings and have reprinted all Grandpa's books, among other things. We even made other Seckatary sequel stories that appeared in nationwide newspapers into books. Now, with the University of Kentucky's adoption of the two books that Harper Lee loved as a child, we are about to reach a larger national audience for The Seckatary once again. Below is the announcement page of The University of Kentucky which was first announced 3/19/16 at the Northern Kentucky University's History Day in Covington.
Club VP, Diane Schneider, has been working with organizations that help preserve Kentucky authors' works, and arranged for the University of Kentucky to take an interest in Seckatary books. Stoner's Boy and The Gray Ghost are two books the University of Kentucky will soon promote and print in large quantities. Pre-orders for books are available on Amazon.com now, for an October ship date. Search Amazon for Seckatary Hawkins to see the books and kindle applications available. Here is a link: http://www.amazon.com/Gray-Ghost-Seckatary-Hawkins-Mystery/dp/0813167949/ref=sr_1_1?s=books&ie=UTF8&qid=1463110921&sr=1-1&keywords=seckatary+hawkins
These are the same 2 books Harper Lee loved above all others as a child. You can read about Seckatary Hawkins in the last pages of To Kill a Mockingbird.
Along with publishing these two titles will also come national and international PUBLICITY, PROMOTION, and DISTRIBUTION of these 2 books. The University will emphasize these books to teachers for use as text books in grade school, middle school, and high school English and literature classes - to be studied in conjunction with "To Kill A Mockingbird." Books will also be sold in hard-cover editions both to online stores (like Amazon), and to brick-and-mortar bookstores (like Barnes & Noble). YES -- that means these two books will be in DIGITAL DOWNLOAD format for the first time for iPad and Kindle platforms to name a few. Thanks for spreading the word.

Click on above to open

brochure
If you would like to see Harper's letters and signed books, come to the 100 year anniversary club meeting in Covington, KY June 17, 2018 and browse through so many items in the Behringer/ Crawford Museum in Devou Park. Joining the club is free, and nothing required for you to buy. Just be fair and square.

---
The Seckatary Hawkins Fair & Square Club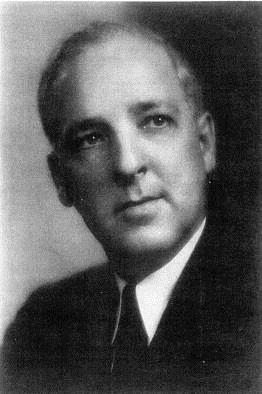 Down on the old Riverbank....

Welcome to the Seckatary Hawkins Club webpages. We are here for you!
My grandfather, Robert Franc Schulkers, wrote children's mystery-adventure novels in the 1920's and 1930's. These wholesome, good-clean-fun adventures for boys (and girls too) centered around their small-town Kentucky riverbank clubhouse were read and loved by millions of boys and girls in the early 1900's. The stories were designed to inspire values of Family; Citizenship; Christian Ethics and Morality - while gradually building strong attributes of Self-Confidence; a Can-Do attitude; and a strength of a Fair and Square character that also helps defeat bullying. These stories silently related good things that youngsters should aspire to in a way they could understand encapsulated within a believable and exciting adventure. Children were shown a world where they too could succeed as well as anyone if they used good judgment and acted Fair & Square. The message that any boy or girl has an equal chance to excel and to do good, wholesome things if they have faith in themselves and never give up, is woven into each story. Indeed, an unlikely main hero of the stories is a really fat boy with a cowlick! As the Fair & Square Clubs spread throughout America into the 1930's, millions of Fair & Square Club members celebrated those good attributes and the adventure stories much in the same way kids follow and respect high adventure / super-hero movies and video games of today. Grandpa published his stories in serial fashion, weekly in newspaper stories, comics, and club news pages all over the country from 1918 until about 1949. National NBC radio shows were broadcast nationwide. Seckatary Hawkins Adventure stories started radio "plays" in 1922 and is known as the very first children's stories broadcast over radio. Robert F. Schulkers published 11 books of these serialized stories by 1932. Very rare original first editions became quite expensive and hard to find in any condition; so the club has embarked upon a volunteer club project to get club members all the book titles at affordable prices.
Club Members reinstated the F&S Club via the internet in 1998 with the inauguration of Seckatary Hawkins Web Site as a not-for-profit enterprise. There is a small, active core group, although many, many others have signed up just to be occasionally active members. Those active members utilize the Club Group email list-service to share info about the stories and the author, tell their own related stories, and answer and ask questions related to Seckatary Hawkins. It is free to join the Club, No dues are ever asked to be paid nor anything required that club members ever need to spend money on. There are big Club Meetings in Covington, KY, every 2 years or so; but nothing you are obliged to attend regularly except online as you feel like participating. Many just read the emails when they get time. You are invited to become a member too. Why not fill in the short form on the website today and have your children, nieces and nephews join up with you? It is a good cause that you will feel good about.
With the added attention to controlling bullying these days, it may be of interest to know that this very popular children's adventure series always emphasizes helping those less fortunate. Seckatary Hawkins is a likeable and smart young boy who projects a very good example for children of today – especially those who may be ridiculed or bullied for being slightly different. Stories that develop around similar bullying situations may just provide the reader with workable solutions for current situations of his / her own. It would be a good thing if more children would read stories such as these that silently convey strong messages of confidence and character building ideas while honestly entertaining the reader.
The hero himself is a prime target for bullying and teasing since he is a fat boy. But his stick-to-it-iveness and "winner never quits" attitude of fair play for all allows him to illustrate how every child, no matter fat or skinny, rich or poor, smart or not, pretty or not, in with the in-crowd or not, can excel and get things done the fair and square way.
These stories also show the benefits of camaraderie with like-minded boys and girls who will band together to get things done the right way. Allegiances and friendship growing techniques are gradually ingrained as these stories progress.
One of our most respected contemporary authors – Harper Lee – used Seckatary Hawkins' teachings and principles to illustrate the theme and moral lesson of her own novel – To Kill A Mockingbird - with one result of helping her story to win a Pulitzer Prize. Seck never won a Pulitzer, but I bet he would have come closer had he still been publishing in 1960 when TKAM got the loving attention of the world for expressing identical principles. Without Seckatary Hawkins in Harper Lee's life, would she have been the same person? Would she have been able to conceptualize as well the lesson and moral she wanted to convey to the world of readers without using Stoner's Boy and the Gray Ghost examples?
Allow yourself or your child, or any child you love, the pleasant opportunity to identify with a Seckatary Hawkins story and see what happens. You will be glad you did.
---
Join the Seckatary Hawkins Fair & Square Club. By joining you promise to abide by the Fair & Square Club rules.

ANNOUNCING MUSEUM DISPLAYS Seckatary Hawkins exhibits are now on display in permanent and rotating exhibits at The Behringer-Crawford Museum - located very near the old Seckatary riverbank clubhouse location on the Licking River. There are comprehensive displays and information about riverboats, trains, and transportation of the past which fits right in with the Fair & Square Club and the adventure stories of Seckatary Hawkins. There are panoramic views of the Ohio River, Cincinnati and Covington, as well as nature trails focusing on Northern Kentucky's natural heritage. Additionally, the museum is the steward for Civil War sites located in Devou Park, and is included on the Civil War Discovery Trail. We encourage Club Members and friends to become members of this wonderful museum to help them continue the great community and Northern Kentucky history work they do. You will have a good time when you visit them. Museum is located at 1600 Montague Rd - Devou Park, Covington, Kentucky. (Website is http://www.bcmuseum.org/). Phone (859) 491-4003.

Tell them Seck sent you, Fair & Square!